News & Notices
With some of the warmer weather that we are starting to have in January, make sure that you keep an eye on your roof.
Posted: January 25, 2017
Some Household Roof Maintenance Suggestions from Garbutt Construction DKI
Ice Damming
With some of the warmer weather that we are starting to have in January, make sure that you keep an eye on your roof. Ice damming can cause a lot of damage to one of your largest investments. Property damage from ice dams can be serious, including structural damages to your roof and water damage to the interior of your home. It may even lead to mould damage in your home.
These damages can be quite costly to your family and an experience that you do not want to go through. Luckily, there are several things you can do throughout the year to reduce the risk of ice damming. It is important to note that ice dams do not only occur during the winter months. This damage occurs when the ice and snow begin to melt.
The most common place to see them is on the lowest edge of your roof, valleys, below and above sky lights, openings in your roof (vents and pipes) and the eaves edge.
Here are some tips to protect your home from ice damming.
Sufficient Insulation
The most important thing that you can do to prevent ice dams is to make sure that your attic is properly insulated. Ice damming occurs when heat rises to your attic, melting snow on your roof or water runoff can then accumulate and refreeze at the above-mentioned locations. Ensuring your attic floor is well insulated can help keep excessive heat away from the underside of your roof.
Is your attic properly ventilated?
Ensuring that your attic is well ventilated will allow cold outside air from the outside to circulate into your attic and lower the temperature of your roofing system. The colder your attic is, the less thawing that will occur, and this will reduce the potential for ice damming.
This can be done with eave, soffit or ridge vents. These types of venting can provide optimal attic ventilation. Rooves on newer homes will more than likely have a combination of these.
Any household heat that penetrates the attic should be able to rise and escape through a ridge vent while a soffit or eave vent pulls in cold air to replace it. Good ventilation combined with proper insulation should be highly effective in preventing ice dams from forming.
Removing Ice Dams
Please do not go up on your roof with a hammer and a chisel. You could cause costly damage to your roofing structure. There are a number of safe ways you can remove them. You can always call a roof professional to address the problem if you cannot do it yourself. For less sloped roofs, clearing the snow off the roof can address part of the problem, but you should still ensure that your attic is ventilated and insulated.
If you feel comfortable doing so use an adjustable snow rake or a shovel to push snow off the roof. For steep roofs, a snow rake is necessary since mounting the roof can be very dangerous in snowy, icy conditions. For serious ice dams, you can also apply snow salt directly to the ice.
Of course, the most effective solution is prevention, so take steps to prepare your home to resist ice dams year-round. You can also buy roof pucks and throw them up on your roof safely from the ground.
Thank you to Matt Douglas for his collaboration on this article.

Please follow all manufacturer instructions and hire a professional if you do not feel comfortable with addressing the problem yourself contact Garbutt Construction DKI at 705-428-3854 or find us on the web at http://www.garbuttconst.com/contact-us/ .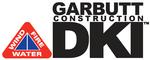 http://www.garbuttconst.com/contact-us/