News & Notices
We have a CUTIE this week as our Pet of the Week
Posted: August 1, 2017
You just must come and see our CC!!
This lovely young kitty came to us very shy and scared. So scared that she spent 2 days in our ceiling tiles – hence the name CC (Ceiling Cat). We are thrilled to say that our girl has become much braver in our care and she is more than ready now to find her new forever home.

Please don't make her wait much longer, she has already been here for over 180 days!

Come on down to 549 Tenth Line Collingwood any day of the week from Noon until 4pm.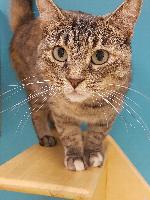 http://www.gths.ca