News & Notices
Collus PowerStream publishes 2018 – 2022 Distribution System Plan
Posted: July 12, 2017
Collus PowerStream welcomes feedback
DSP available for review and comment on Collus PowerStream website

Collingwood, ON, June 14, 2017 - Collus PowerStream Corporation is pleased to present its draft five-year Distribution System Plan (DSP) of our planned investments in the electrical distribution infrastructure to service present and future customers from 2018 to the end of 2022. They are designed to provide timely value to our customers by aligning reliability and service quality with customer expectations.

Customer and other stakeholder input over the years has influenced these planned investments. The draft DSP gives all stakeholders the opportunity to review and comment on it. Collus PowerStream welcomes feedback on the proposed investments and direction to help Collus PowerStream maintain current levels of service, ensure plan alignment, and finalize the prioritization and scheduling of investments.

Collus PowerStream is presenting the draft DSP for review and comment to enhance the two-way communication with our customers and other stakeholders, and to ensure Collus PowerStream is able to respond effectively to the needs and expectations of our customers.

Collus PowerStream believes that working together on this consultation will further enhance existing relationships with our customers and other stakeholders, and help achieve positive value-added outcomes that support the Ontario Energy Board's Renewed Regulatory Framework Objectives.

The Distribution System Plan will be available for review and comment through to the fall of 2017.

Take this opportunity to have your voice heard. Click on the link at the bottom of the page to take the survey on the 2018-2022 Distribution System Plan. All responses will remain confidential.

QUOTES
"We appreciate your time to review our draft 5-year Distribution System Plan, and provide us with feedback through the website survey link. This is your opportunity to ensure your voice is heard. Thank you for your participation in this planning exercise." - Larry Irwin, Collus PowerStream, Vice President of Operations
BACKGROUND
Distribution System Plans, as prescribed by the Ontario Energy Board, are the backbone of the new approaches to rate setting. Consolidated Distribution System Plans integrate all investments and reflect good asset management practices. Planning is the key to meeting expectations for predictable and fair rates, pace and prioritization of investments.
ABOUT COLLUS POWERSTREAM
Collus PowerStream is a jointly-owned utility by the Town of Collingwood and Alectra Utilities (formerly PowerStream) that provides reliable electricity to customers in Collingwood, Stayner, Creemore and Thornbury.

MEDIA CONTACT
Larry Irwin, Vice President of Operations, Collus PowerStream
Email: lirwin@collus.com | Telephone: 705-445-1800 extension 2223

*Customers who would prefer to participate in the survey via telephone or other means, please contact us to arrange participation.*

The Collingwood Chamber of Commerce will be partnering with Collus PowerStream in the early fall for a very informative Power Lunch. This will be a perfect opportunity to hear from representatives from Collus PowerStream. Details of the Power Lunch will be confirmed soon!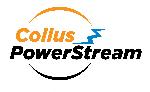 http://www.collus.com/dsp