News & Notices
Soul Sisters Sizzles in November at Blue Mountain Resort
Posted: October 30, 2019
Theatre Collingwood
Autumn colours are quickly changing the landscape in South Georgian Bay, and visitors and residents alike are starting to think about the next wonderful time of year in this magnificent 4-Season playground. Theatre Collingwood is ready to turn up the heat for winter at the Blue Mountain Inn and Conference Centre where the company will stage another musical celebration in the Weider Ballroom. The popular resort venue is the perfect location to delight theatregoers with Soul Sisters, a rousing musical tribute that tells the story of the birth of Soul music and R&B while reflecting upon the women who inspired it.
From the creative team of Colin Stewart and Chris McHarge, who brought us the sold-out run of Rockin' All Night in 2018, Soul Sisters is another upbeat production that starts with music from Big Mama Thornton, Etta James, Aretha Franklin, and Gladys Knight, then weaves through the 60's and 70's with Patti LaBelle, Diana Ross and Tammi Terrell and shakes it up with contemporary hit-makers Tina Turner, Chaka Kahn, Sade, Whitney Houston and many more!
"Soul Sisters is a unique tribute to the founding mothers of Soul and R&B," says Erica Angus, Executive Director of Theatre Collingwood. "These women blazed a trail in music that has inspired multiple generations. Audiences will be treated to incredible renditions of their most beloved songs".
The passionate music created by such early female artists as James, Franklin and Ross laid the groundwork for many of today's pop-music stars, but the stories behind their songs are still unknown to many. With that in mind, Stewart and McHarge went digging through herstory to find inspiring anecdotes that form the basis of this production.
As one would expect, Soul Sisters features three amazing lead singers and a top-notch band! Taking the stage to embody the iconic singers in this walk down memory lane are, Saveria D'ippolito, Tyanna Nikkita and Shane Philips.
Saveria D'ippolito is a 22-year-old singer, songwriter and producer from London, Ontario. D'ippolito was exposed to many styles of music growing up and her voice reflects a smooth R&B quality with the infectious precision of pop music and an unmistakable psychedelic soul. She has already performed all over North America, making several notable radio and television appearances along the way.
Tyanna Nikkita is a Toronto native who began her professional singing career at the age of 18. After studying Music Production at Seneca College, Nikkita performed regularly with her band around Toronto before adding modelling and background acting in such shows as Suits and Nikkita to her performance repertoire. She has also appeared with such notable artists as Lorraine Lawson, Sean Jones, Jordan John, and The Truly Band's Trust Chen Pow.
Shane Philips is a singer-songwriter who was raised among a family of singers in a small Ontario town on the banks of the Grand River. His devotion to singing flourished as a child when he transitioned from singing with his church choir to performing classical Italian opera during his elementary years. As well as being an actor and dancer, Philips' powerful voice and technical ability has gained him starring roles in a variety of musicals including, We Love Harry Belafonte, Sweet Soul Music, as well as Memories of the Rat Pack, playing Sammy Davis, Jr. Philips was a contestant on "The Voice" and recently sang with living legend, Stevie Wonder at Toronto's Air Canada Centre.
Soul Sisters also showcases an incredibly versatile 4-piece band, lead by Musical Director, Colin Stewart whose 30-year professional career has enabled him to perform with such blues artists as John Ellison, The McAuley Boys, Dutch Mason, Chicago Pete, Ellen McIlwaine and Phil Guy.
As co-creator of Soul Sisters, Stewart has a long-term creative partnership with the show's Director, Chris McHarge. The former Artistic Director at Lighthouse Festival Theatre in Port Dover, McHarge has also enjoyed an extensive professional career having worked throughout Canada, Europe and the United States. He has directed over 100 productions and 31 world premieres. Together, Stewart and McHarge have written more than 13 live musical tribute shows including Memories of the Rat Pack, DooWop to Motown, Memories of Hank Williams & Patsy Cline, and Blue Suede Shoes, Johnny & June, and Vegas Knights, which have enjoyed sold-out shows across Canada and in Europe.
And with the superb musicianship of Todd Lafraniere (Drums), John Kenny, (Guitars), Chris Dahmer, (Keyboards), Soul Sisters promises to bring audiences to their feet with songs like Hound Dog, Respect, Rock Steady, Ain't No Mountain High Enough, Lady Marmelade, Proud Mary, Last Dance, I'm Every Woman, to name just a few of the hits in this sure-fire crowd pleaser. Don't miss it!
Soul Sisters is proudly sponsored by Royal LePage Locations North Brokerage. The 2019 Season Sponsors are Blue Mountain Resort and Chartwell Georgian Traditions.
Soul Sisters runs November 20th to November 22nd at the Blue Mountain Inn & Conference Centre. Regular performance tickets are $47.00 for adults; $20.00 for students of any age. Discounted tickets for groups of 10 or more are $42.00. HST is applicable to all ticket prices.
Tickets are on sale now and can be purchased by visiting www.theatrecollingwood.ca, in person at the Theatre Collingwood Box Office, conveniently located downtown Collingwood at 115 Hurontario Street, Suite 104, by calling 705-445-2200 or toll free 1-866-382-2200.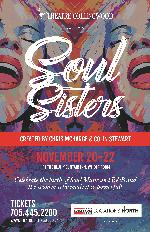 http://www.theatrecollingwood.ca