News & Notices
My name is Milo's
Posted: July 7, 2020
Hi everyone,
My name is Milo and I can't wait to meet you!
I'm a bit of a chatty guy when it comes to asking for attention (and I ask a lot haha)
I'm sorry, I can't help it! I just love when the humans pay attention to me and give me the good scratches. So, if they're not paying attention to me, sometimes I need to remind them to pat me!!
You've probably already noticed, but I have this beautiful (and veryyyy soft) long black and white coat and am mostly fluff as I'm only about 10lbs!
Like some of the other cats here, I arrived at GTHS through the Transfer Program, which means I made the very long trip here from way the heck up North! I've been here a couple weeks now and am VERY ready to find a human or family of my very own!
Now, one thing I should tell you...I don't really love my other cat roommates. And by "don't really love" I mean, I was kind of bullying them and had to be separated from them....oops haha
So, as long as I find a home where I can be the only cat, we'll be good! All that really matters is that I LOVE people, love attention and will love my new humans big time!!
My adoption fee is $100 and includes my neuter, up-to-date vaccinations, dewormer and a microchip.
Oh gosh, I sure do hope I find a loving new family soon. I just can't wait!!!
Purrs and mews,
xoxo Milo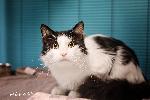 https://www.gths.ca/animals-for-adoption/