News & Notices
Good morning!
Posted: August 4, 2020
Meet Hemlock!
Hi humans,
My name is Hemlock and I'm the current GTHS sweetheart!
At 11 months old, I'm still a young girl and about 8lbs...so maybe a little growing left to do!
I was actually transferred here to the GTHS from another rescue organization and let me tell you...I'm ready to ditch these shelters and finally get into a loving home of my very own!!
And uhm, when I say my VERY OWN hehe I mean, I don't want to share you with any other kitties!
I'm an only cat kind of girl, so would love to find a home where I have my humans and the attention alllll to myself.
Because I wasn't exactly getting along with my kitty roommates here at GTHS, I'm now the lobby cat. Which I think is great!
I get to sploot all over the place (see photo hehe) and have a great time distracting the staff from their work!
I like to distract by head booping, sitting on papers and walking on keyboards! But I'm purrrrring and SUPER DUPER sweet the whole time, so they let me get away with it!
I also love a good chin scratch and will chat, chat, chat away to you, telling you all sorts of stories and I'll also be sure to mewo to you so you know how much I love it when you give me attention!
If you're a one-cat family and are okay with just me and no other kitties, then I just know we'll be a great match! I'm just wayyyy too easy to get along with you anyone to not fall in love with me.
My adoption fee is $100 and includes my spay, up-to-date vaccinations, dewormer and a microchip.
Come on, come on! What are you waiting for! Send in an application for sweet little ole me already!
Purrs and boops,
xoxo Hemlock
*If you are interested in adopting me, please visit our main adoptions page (https://www.gths.ca/animals-for-adoption/) for instructions on our modified covid adoption process*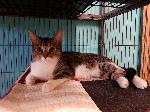 https://www.gths.ca/animals-for-adoption/