News & Notices
Black Light Investigative and Surveillance Services
Posted: April 8, 2021
Now hiring part-time for our seasonal summer clients
Black Light Investigative and Surveillance Services proudly announces that Cory Smith has successfully completed our Sentinel Training Program for new Security Guards. Cory is now a fully licenced professional guard. He has received his Level C First Aid and has completed our Use of Force requirements. Cory is an asset to our team, and we are proud to have him in service.
If this sounds like a career you would be interested in, please forward your resume to our General Operations Manager (tim.morrison@blacklightiss.com).
We are now hiring part-time for our seasonal summer clients. These positions could lead to full-time.
Financial assistance is available for the right candidate.
*Black Light Investigative and Surveillance Services has been an essential service during the Covid-19 pandemic and is committed to community safety and security.

https://blacklightiss.com/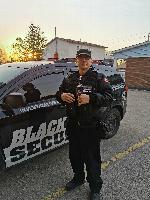 https://blacklightiss.com/