News & Notices
Firm Name Changed
Posted: January 18, 2022
Cowan & Vaillancourt LLP
On January 1, 2022, our firm name changed from Besse Merrifield & Cowan LLP to Cowan & Vaillancourt LLP.
While our name might be different, you will get the same level of service and advice you've come to expect from us. Our physical address and phone and fax numbers will stay the same, but our email addresses have been updated. Our old email addresses will be kept active for a period of time to ensure a seamless transition.
We look forward to continuing to assist you with your legal needs, with the same lawyers and staff you know and trust.
If you have any questions, do not hesitate to reach out to us.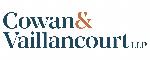 http://www.cvllp.ca


CVLLP - Name Change.pdf (524 KB)